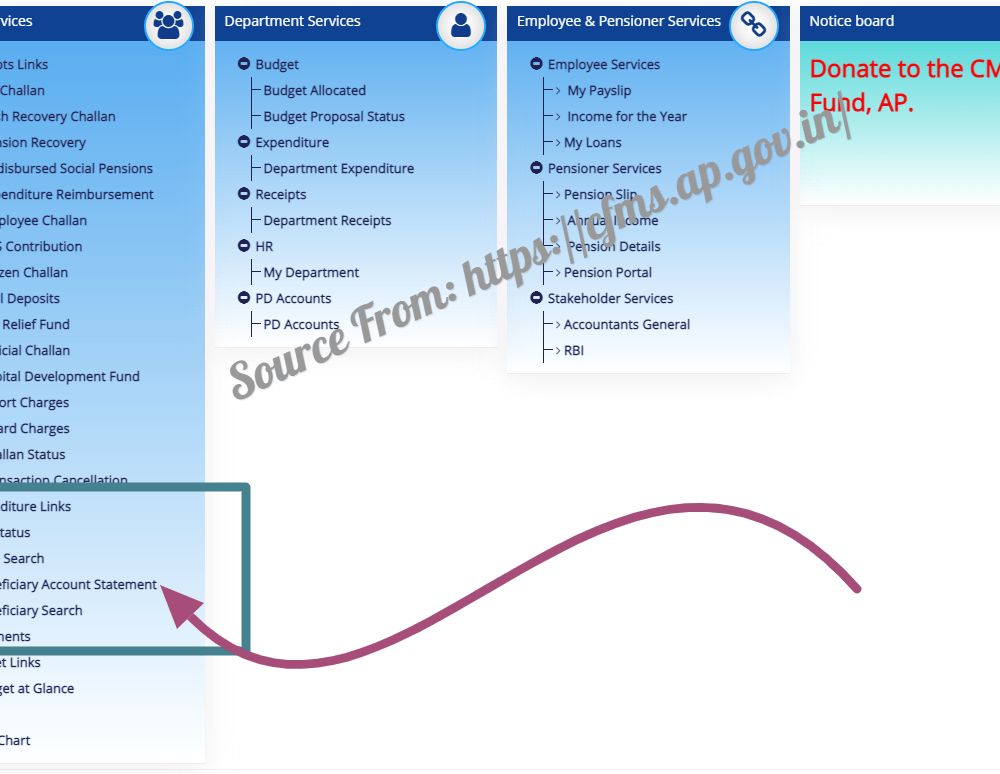 Online Downloading procedure on AP CFMS Beneficiary Account Statement under Citizen Services Expenditure Links tab at https://cfms.ap.gov.in website….
Are you looking forward to checking the AP Cfms beneficiary account statement from the comfort of your home? If so, there is no reason to worry since you can perform this action at any time of the day regardless of your current location.  This is possible thanks to the Andhra Pradesh (AP) Comprehensive Financial Management System (CFMS) portal.
How to Check AP CFMS Beneficiary Account Statement
With the right information, you will not have to worry about checking the AP CFMS beneficiary account statement. Fortunately, that is what this article is going to do. Follow the steps given below to complete the entire process without encountering any issues whatsoever
Open any web browser that you have installed and type in https://cfms.ap.gov.in/ on the search tab as the URL.  Press the 'Enter' button to access the homepage of the AP CFMS portal
On the homepage of the portal, you can see a host of options and links.  Here, scroll down the page and click on the 'Expenditure Links' under the Citizen Services section.
From the drop-down list that appears, select the 'Beneficiary Account Statement' link
You'll be redirected to a different page on the site from where you have to fill in all the mandatory details correctly
Enter your proof of identity like PAN Number, Aadhaar Number, Aadhaar Bank Account Number, Beneficiary Number, and Request Number
Confirm the details after which you should click on the 'Submit' button
You can now see the results of the beneficiary account statement on the screen of your device
There you have it, the simple steps you need to follow before you finally check AP CFMS Beneficiary Account Statement. If for any reason the link does not open, then you should wait for a while before trying again. It is then that you can complete the entire process without going through a lot.
Final Thoughts
The AP CFMS portal has come at just the right time when the vast majority of State Governments in India seem to be digitalizing most of their tasks.  Whether you want to check CFMS citizen challan status online, beneficiary search, or even beneficiary account statement, then you can do so hassle-free.
All it takes is for you to know about the steps that one needs to follow before checking the details. That way, you will no longer have to make do with endless visits to the relevant department offices since you now have total control.