How to Check My Loans under Employee & Pensioner Services in cfms.ap.gov.in website….
The State Government of Andhra Pradesh, Department of Finance has now put in place a site from where salaried employees can get access to different services such as checking their salary pay slip. This site commonly referred to as Comprehensive Financial Management System (CFMS) has come as good news to employees of Andhra Pradesh.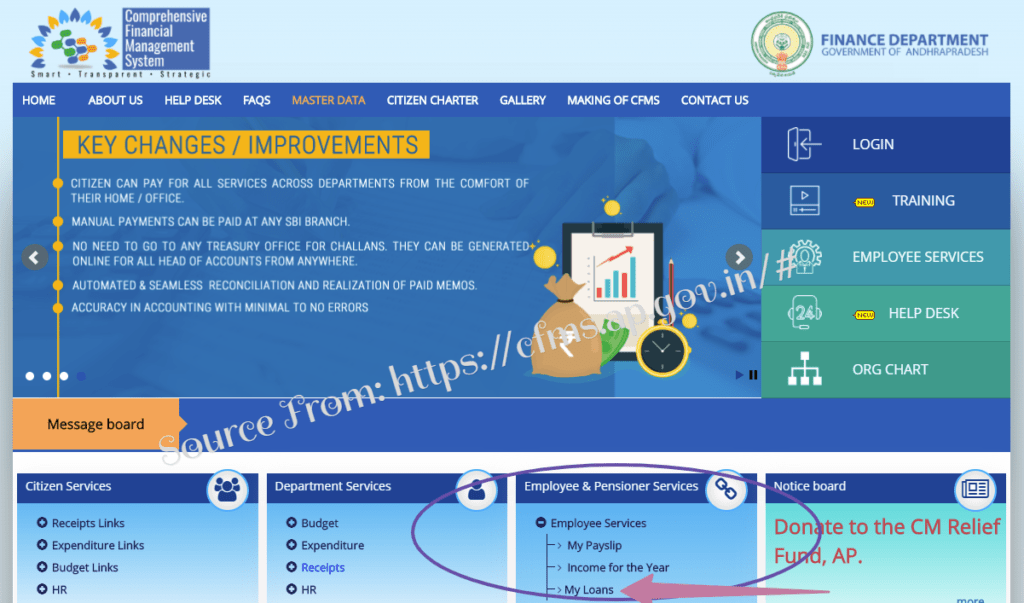 Check My Loans in cfms.ap.gov.in web portal
One of the services that you can get when using CFMS website is checking your loans. You can get this information by using the Employees & Pensioner services once you visit the portal. However, just like in any other website, you may end finding it hard before you can finally check my loans in the website. To help you out, here is a step by step guide of how to check My Loans under employee & pensioner services.
You will first have to open your installed browser before typing in https://cfms.ap.gov.in/ on the search bar. Hit the 'Enter' button on your keyboard to initiate the search
This action will redirect you to the homepage of Comprehensive Financial Management System website. Here, scroll down the page until you can see Employee & Pensioner Services option.
Click on Employee & Pensioner Services option after which you will see a drop down box containing Employee, Pensioner and My Loans services.
Next, click on 'Employee services' option from where you can access services such as My Pay slip, Income of the Year and My Loans.
You will have to click on 'My Loans' option since you are interested in checking your available loans.
A new page will appear on the screen of your device from where you should correctly enter your CFMS ID before clicking on the 'Submit' button.
Now you can have a look at the loans which will be displayed on your screen.
CFMS has eased the way salaried employers can access services offered by the finance department. Initially, you would spend your precious time moving from office to office in order to get a service such as checking your pay slip. Now this is a thing of the past as they are all accessible in CFMS Website. You will, therefore, get to save on time since you only have to access the internet in order to get any service that you need.
How to know the 'My Loans status' in cfms.ap.gov.in website?
How to tracking the My Loans status in cfms.ap.gov.in?

To check your loan status in AP CFMS portal, you'll first have to visit this site. Under the 'Employee & Pensioner Services' section, you need to click on 'Employee Services.' Here, click on the 'My Loans' service to access a different page on the site. Now select 'Loan Status' and enter the required details to get this information.

How to logon into PRDCFMS?

As long as you have an internet-enabled device and connected to a network you can logon to PRDCFMS without the hassle. All you have to do is visit AP CFMS portal and click on the 'Login' button. On the new page that appears, correctly enter your CFMS login ID and password before clicking on the 'Log On' button.