How to Generate AP CFMS Teachers Pay Slip or Salary Slip Download at cfms.ap.gov.in website…..
The State Government of AP has going to a new step in place of new system that allows employees to check their AP Government Teachers pay slip without having to move a muscle. This system commonly referred to as the Comprehensive Financial Management System (CFMS), allows every employee of AP state to download their pay slip using CFMS login id.
If you are having problems when downloading or generating the AP CFMS Teachers Salary slip, you have come to the right place. In this article, we are going to have a look at the step by step guide on how you can generate your CFMS AP Teachers Salary pay slip.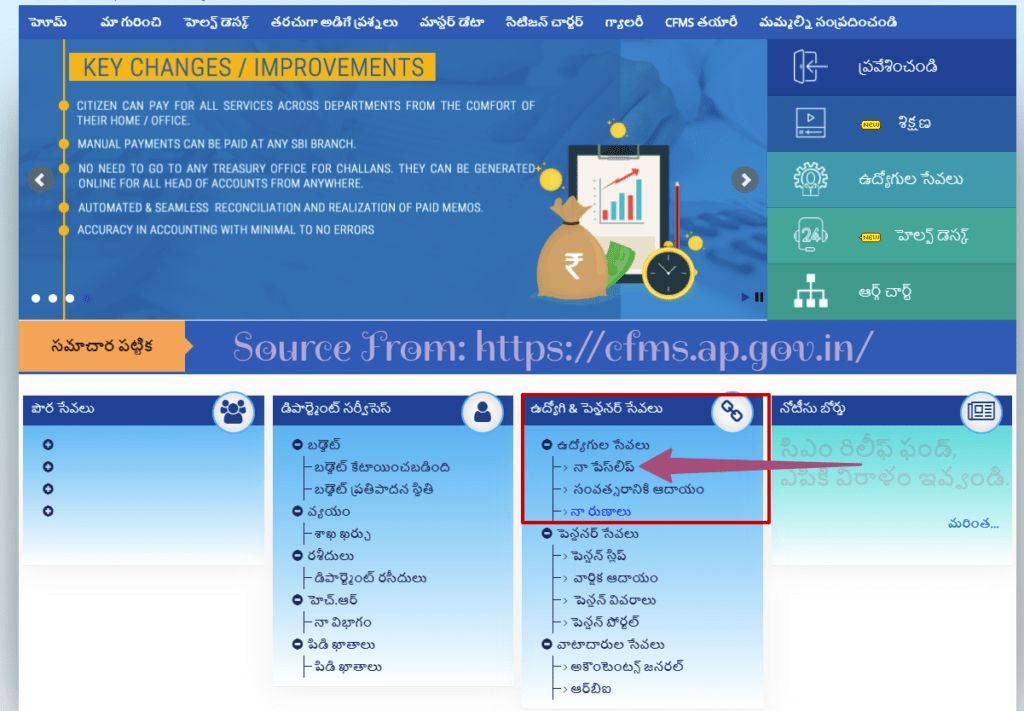 Generate AP CFMS Teacher Pay Slip or Employee Salary Slip Download in cfms.ap.gov.in
But before we start, you must make sure that you have your new CFMS login id. If not, then you can simply get one by visiting the site before using the employee services option. You must also make sure that you are connected to the internet since it is the only way in which you can access Comprehensive Financial Management system of AP Website. Once you have everything in place, you can make use of the steps given below to generate your AP Employees Teachers Pay Slip under Employee and Pension Services like Pension Slip Download.
In your Google Chrome or Mozilla web browser, you will have to type https://cfms.ap.gov.in/ after which you should press the 'Enter' button on your keyboard
You will automatically be redirected to the homepage of Comprehensive Financial Management system of AP Website.
Here, look for Employees and Pension Service option since we are going to use it in generating your employee AP Govt Teacher pay slip. Click on the option once you locate it.
A new page will appear on the screen of your device from where you should click on 'Employee Services' option.
You will be able to see different options to choose from. Click on "My Pay Slip" option and then enter your CFMS ID.
After entering the CFMS ID, you will be able to see your salary particulars on the screen.
Finally, you can download the pay slip using the year wise or monthly wise option depending on what you are looking for. Additionally, you can also download your annual statement.
It is important that you look for your CFMS ID before you can download the AP Teachers Salary pay slip. Employees who do not have the CFMS id cannot download their pay slip since it is mandatory. Fortunately, you can easily get it from CFMS Website using your PAN number, Aadhaar number, Bank Account Number or old employee id.
How to Generate AP CFMS Government Teachers Pay Slip in cfms.ap.gov.in?
How to download / get AP CFMS Employee Salary Pay Slip in cfms.ap.gov.in?

To generate AP employee salary slip, you have to login to your account in CFMS portal. Under the 'My Tasks' tab, you have to click on 'Beneficiary Account Section.' Enter the mandatory details before clicking on the 'Display' button. Finally, click on the 'Download' button to download the salary slip.

How to Generate Cash Recovery Challan in cfms.ap.gov.in?

Generating cash recovery Challan is now an easy undertaking thanks to AP CFMS portal. After all, you only have to visit the portal from any location and select the 'Citizen Services' option. A drop-down menu will then be displayed. Here, click on the 'Cash Recovery Challan' service. You'll be redirected to a new page on the site where you have to enter your Bill number and year before clicking on the 'Get Details' button.